PETER VIERTEL
German-language Promotion video for Between the Lines. The sections with Peter Viertel are in English. He discusses his Hollywood, World War II (Viertel was a marine and also in the OSS), and experiences as a writer.
---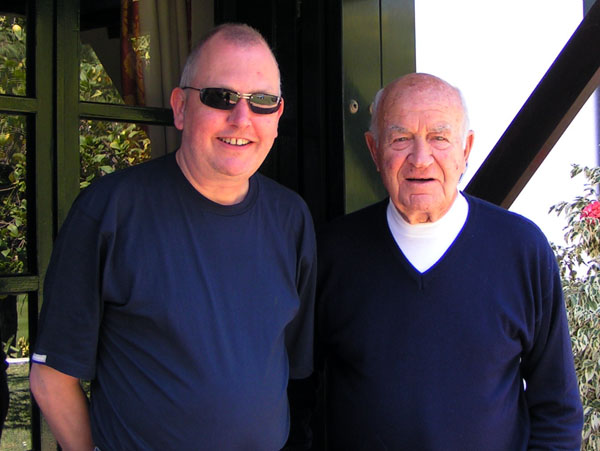 Director/Producer Michael Scheingraber with Peter Viertel in May 2007.
Photo courtesy of Michael Scheingraber.
---
About the film:
Peter Viertel - Between The Lines
November 9, 2007 note from Michael Scheingraber:
(I wrote to Mr. Scheingraber to ask about some of the things covered in his upcoming film on Peter Viertel. He replied that the interview is in English, and covers these topics:)
Peter Viertel - Between The Lines
• Early childhood in Germany
• Growing up in Santa Monica
• His parents Berthold and Salka
• Salka's salon: Peter remembers Bert Brecht, Thomas Mann, Aldous Huxley and many, many others
• Spanish civil war
• What the intellectual society in Hollywood thought of Adolf Hitler
• First novel THE CANYON (and why he wrote it)
• Writing for the screen
• Working with Alfred Hitchcock: SABOTEUR
• Working with John Huston: WE WERE STRANGERS, AFRICAN QUEEN, etc.
• Relationship with Ernest Hemingway
• "IIt's almost a religion" - Peter Viertel on bullfighting
• About his novels, especially LOVE LIES BLEEDING and LOSER DEALS
• About Klosters, Swizerland and skiing
• About Marbella, Spain
• Working with Clint Eastwood: WHITE HUNTER, BLACK HEART
• About modern Hollywood
• About working for the OSS
• About his latest novel
Of course, Peter Viertel talked about a lot of stars and legends: Orson Welles, Bogart & Bacall ("The only woman, who could French make sound dirty!"), Errol Flynn, Ava Gardner, Anatol Litvak, Brad Pitt, Sean Connery, Darryl F. Zanuck, Richard Zanuck, Greta Garbo – the list is endless.
Peter was very reluctant speaking about his wives Virginia Ray "Jigee" Schulberg and Deborah Kerr. He asked us to avoid questions that he considered too personal. We respected his wish, of course. Nevertheless he told us a great story, how Deborah Kerr received her Honorary Academy Award in 1994.
Peter not only told very funny, sometimes moving stories; he also spoke about the painful job of being a writer, but he was never bitter about anything.
I sincerely hope, that I can finish this film. It's not only a labour of love for me, but a duty to preserve Peter's lifetime experience, his wit, charm, grace and his art for future generations.
Michael Scheingraber
director/producer
---
November 8, 2007 note from Michael Scheingraber:
These photos were taken in May 2007, at Peter Viertels finca in Marbella, Spain. He was fit as a fiddle, then.

He postponed one interview by saying: "Sorry, Mike, but I can't come this afternoon."

"Why is that?", I asked.

"Well, I've got an appointment with my tennis coach!" he replied.

I was truly flabbergasted – Peter was 86 years old!

When we did the interview, Peter invited us to his "inner sanctum": his bungalow, where he wrote. I recognized a thick pile of paper on his desk and inquired about it. Peter told me that this was a new novel he'd just finished. It is a spy story set in WW II. I hope it will be published soon.

As far as my movie is concerned, I have good reason to believe that German/Austrian/Swiss-TV will provide the necessary money to finish.

Kindest regard from Munich
Sincerely yours,

Michael Scheingraber
---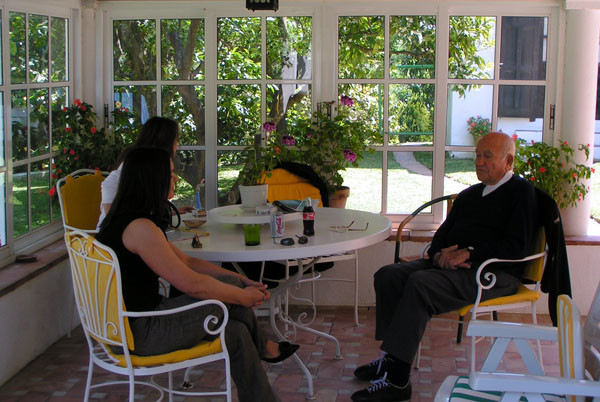 Below: Katrin Scheingraber with Peter Viertel at Peter's home in Marbella, Spain, May 2007. Photo courtesy of Michael Scheingraber.
---
November 5, 2007 note from Michael Scheingraber:
"I first encountered Peter Viertel in 1991 at the Filmmuseum in Munich, where WHITE HUNTER, BLACK HEART was shown before it's theatrical release in Germany.

Since the mid-eighties Clint Eastwood has donated a brand new copy of every new film he made to the Filmmuseum. The reason is quite simple: We honored Mr. Eastwood as a director, organizing "Eastwood-weekends" and invited him, while he was not yet appreciated in his homeland.

Anyway, I was very fascinated by Peter Viertel and the film.

At that time I was working as an assistant director to Mr. Wolfgang Glueck. As a young man Mr. Glueck worked as a.d. for Peter's father Berthold. Glueck told me many interesting stories about the Viertel family. Being a film buff, I listened very carefully... later on I lost track on Glueck as well as Viertel...

In 2006 my wife gave me a copy of DANGEROUS FRIENDS as a Christmas present. I enjoyed it very much and thought about the possibility of doing a documentary about Mr. Viertel. I phoned the Swiss publishers and learned that Viertel would read from his book in Klosters, Swizerland (in February). I drove from Munich to Klosters and had a long conversation with Peter. He agreed to do a real long interview on camera and I was naturally delighted. We wrote a script, sent it to Peter and he approved it.

In May, I flew to Marbella with my small crew and recorded 400 Minutes of interview with Peter Viertel. The material is sensational."