PETER VIERTEL NEWS
Update: July 2013
This web site is in the process of being updated with new material. Please check back!
---
Update: May 11, 2011
Penelope Andrew has authored a 3,000 word essay on Peter Viertel's wife, actress Deborah Kerr, which has been published at the online film journal Bright Lights Film Journal.
"Combining intelligence with a poetic nature, she starred in two Powell/Pressburger masterpieces while still in her twenties — The Life and Death of Colonel Blimp (1943) and Black Narcissus (1947). Later, she appeared in American classics — From Here to Eternity, The King and I, Heaven Knows Mr. Allison, An Affair to Remember, and The Sundowners — yet there have been only two, unfortunately inadequate, biographies about her life and career, the latest being Michelangelo Capua's Deborah Kerr: A Biography (2010). But capturing the combination of her unique artistry, enormous mass appeal, and charismatic personality has thus far eluded her biographers."
The essay gives a complete film career over view, well worth reading.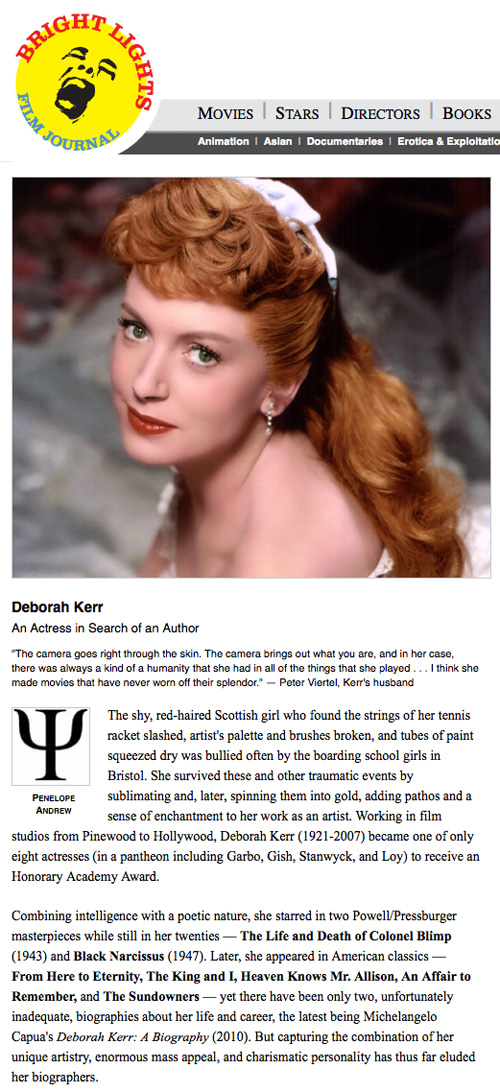 Read the Penelope Andrew article on Deborah Kerr in it's entirety at the Bright Lights Film Journal.
---
January 29, 2010
Michael Scheingraber continues production on his film Peter Viertel : Between the Lines. Scheingraber is also working on a book about his meetings with Viertel in which they explored his history in cinema and his literary history.
[To the right: Photo of Peter Viertel by Michael Scheingraber]
---
November 21, 2008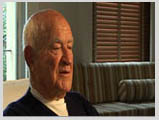 UPDATE: The video about Peter Viertel has been moved to this page and can be viewed at a larger size. Also, the previous video contained a sound error and has been corrected.
Director Michael Scheingraber continues production on Peter Viertel: Between the Lines - he has provided a promotional short to provide a hint of the vast amount of material he was able to record from Viertel's discussions with him about Viertel's books, films and memories from his long association with Hollywood and literature.
---
July 28, 2008
Director Michael Scheingraber is still in production on Peter Viertel: Between the Lines - the 400 minutes of interview material he filmed before Viertel passed away last year. The interviews are being transcribed to book form.
I asked Mr. Scheingraber for an idea of what will be in the book, and he responded:
1. An essay about Viertel's background (written by Austrian author Katharina Prager, who just published her well received book about Salka Viertel "ICH BIN NICHT GONE HOLLYWOOD")

2. A biography of Peter Viertel

3. The complete interview

4. A complete filmography and reviews of the Peter Viertel films

5. Index of persons Viertel mentions
Mr. Scheingraber also said that the book is to be published in the German/Austrian/Swiss market, with a selection for an American publisher to take place in the future.
---
SUR Southern Spain obituary article (in English) by Cristina González is here.
"He died with his boots on, as they say: working virtually up to the very last day of his life on what was to be his next novel and sketching out the second part of his memoirs, which he had been preparing for several years. The scriptwriter and novelist Peter Viertel (Dresden, 1920), died on Sunday at the USP hospital in Marbella as the result of a serious illness that had got worse over the last few weeks. He was admitted to hospital last Friday.

Mere coincidence or a twist of fate, his death came just 20 days after that of his wife, actress Deborah Kerr, who passed away in the UK in the middle of October. "Her death had affected him enormously", the writer Arturo Reque, a personal friend of Viertel who was with him during his last hours, told SUR on Sunday. Viertel was cremated on Tuesday at the Virgen del Carmen cemetery in Marbella, after a short ceremony attended by his step-daughter Francesca Shrapnel and local famous faces such as Princess María Luisa of Prussia, and Marisa de Borbón. The writer's loved ones said a few words of farewell and read out extracts of his texts. It was also announced that a street in the town will be named after him.

...This friendly, untiring conversationalist and lover of all sports, but especially surfing, discovered a paradise for his restless spirit in his Marbella home, located on a hill of the Río Real estate, overlooking a golf course. "I also live in Switzerland, a magnificent country, but in the winter there an elderly person has to stay at home the whole time and it's very boring. Marbella is more fun", he said on one occasion.

During his long stays on the Costa del Sol he was accompanied by his wife, the actress Deborah Kerr, who died last month at the age of 86 after a long battle against Parkinson's. However Peter never abandoned his prolific career as a writer. In fact in this last year he had increased his participation in informal debates and cultural events due to the release of the Spanish translation of his novel "Bicycle on the Beach".

In fact one of his last public appearances was on May 9th this year when he gave a talk in Malaga as part of a cultural series organised by SUR, entitled "The Hollywood I knew". There he recalled some of the episodes that marked his career as a screenwriter and had no qualms about criticising the current state of the film industry. "Now actors are paid too much", he said. That was another of his personal characteristics: he always spoke his mind."
Read the complete article here.
---
Below: Director Michael Scheingraber and Peter Viertel in 2007 Michael Scheingraber and Peter Viertel 2007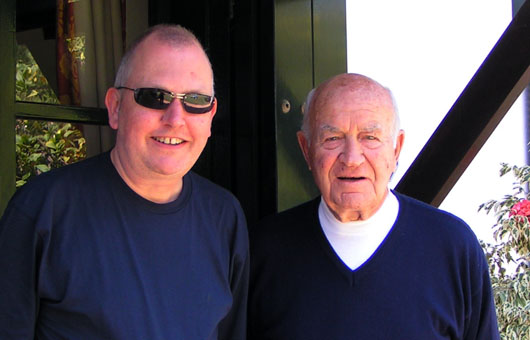 ---
A scan of the November 5, 2007 editorial about Peter Viertel and Deborah Kerr from the La Tribuna of Marbella (Spanish) here. Thank you Mike Pinter!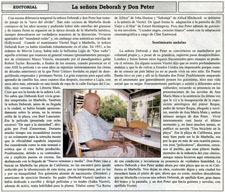 ---
November 5, 2007
Dear Erik,

I'm sorry to inform you that Peter Viertel died yesterday evening in a private hospital in Marbella, Spain.

During the production of my new film PETER VIERTEL – BETWEEN THE LINES, I got to know this wonderful man quite well.

His great personality, wit and modesty will always be remembered by those who knew him; his work will certainly enchant further generations of film buffs and viewers.

Thanks for your website!

Kindest regards

Michael Scheingraber
director/producer
---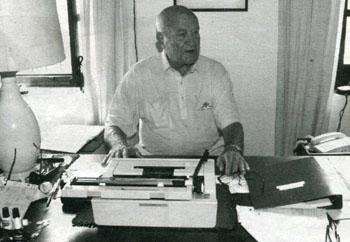 A Tribute to Peter Viertel from Marbella, Spain
---
[Below] Screenshot of obituary from ThinkSpain Nov 6, 2007: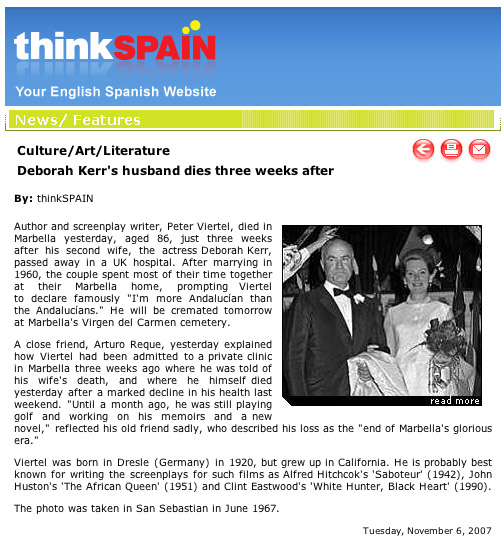 ---
[Below] An excerpt of the Los Angeles Times Obituary by Jon Thurber:
(Entire obituary article is here)
Viertel died of lymphoma Sunday in the Spanish coastal resort of Marbella, according to Paula Kane, a family friend. His death came less than three weeks after his wife of 47 years, actress Deborah Kerr, died in Suffolk, England, also at 86.

A formidable figure and bon vivant in his own right, Viertel drew upon his relationships with Hemingway and Huston -- two larger-than-life friends -- in his most noted books, the novel "White Hunter, Black Heart" (1953) and the memoir "Dangerous Friends: At Large with Hemingway and Huston in the Fifties" (1992). He would later help adapt "White Hunter, Black Heart" for the 1990 film that Clint Eastwood starred in and directed.

Huston invited Viertel to accompany him to Africa in 1951 to help with dialogue in James Agee's unfinished script for "The African Queen," which gave Viertel a front-row seat to watch the distracted filmmaker hunt wild game while the crew endured wretched conditions, unbearable heat, aggressive insects and dysentery during delays in shooting.

Huston's goal was to bag an elephant -- and the film, which turned out to be a classic, took second billing to that endeavor. The relationship between Huston and Viertel suffered over their different views about the script and Viertel's decision not to hunt with the director.

"John had a bee up his bonnet that he was going to kill an elephant, and it became an obsession with him," Viertel told The Times some years ago. "People like Hemingway and Huston did that kind of thing to prove themselves."

...Viertel served in the Marine Corps in the Pacific and later with the Office of Strategic Services in Europe during World War II. After the war, he attended Dartmouth College and UCLA.

He began writing as a teenager and published his first novel, "The Canyon," when he was 20. He also began a friendship with a young man who also became a noted novelist, Irwin Shaw. Together they wrote the play "The Survivors" after both returned from World War II service.

In "Dangerous Friends," Viertel noted that he sent Hemingway a copy of "The Canyon" and that the great author said "he had read it slowly, with great pleasure, standing up in his study, a chapter every morning, to make it last."

In the early 1950s, Viertel moved to Europe and spent much time in Paris or skiing in Klosters, Switzerland.

His first wife, Virginia "Jigee" Ray Viertel, died in 1960.

He is survived by a brother, Thomas Viertel of Los Angeles; a daughter, Christine Viertel of Austin, Texas; Kerr's two daughters, Franchesca Shrapnel and Melanie Bartley, who live in England; and three grandchildren.
---
[Below] Screenshot of the Der Spiegel Online obituary that appeared November 5, 2007 (translated):
Peter Viertel Obituary
The November 5, 2007 Der Spiegel page is here (in German)
---
Below: Peter Viertel and his new wife Deborah Kerr on the evening of their wedding, July 23, 1960.
This is an image from Viertel's book Dangerous Friends.