PETER VIERTEL
BOOKS
The Canyon
Harcourt, Brace and Company, 1940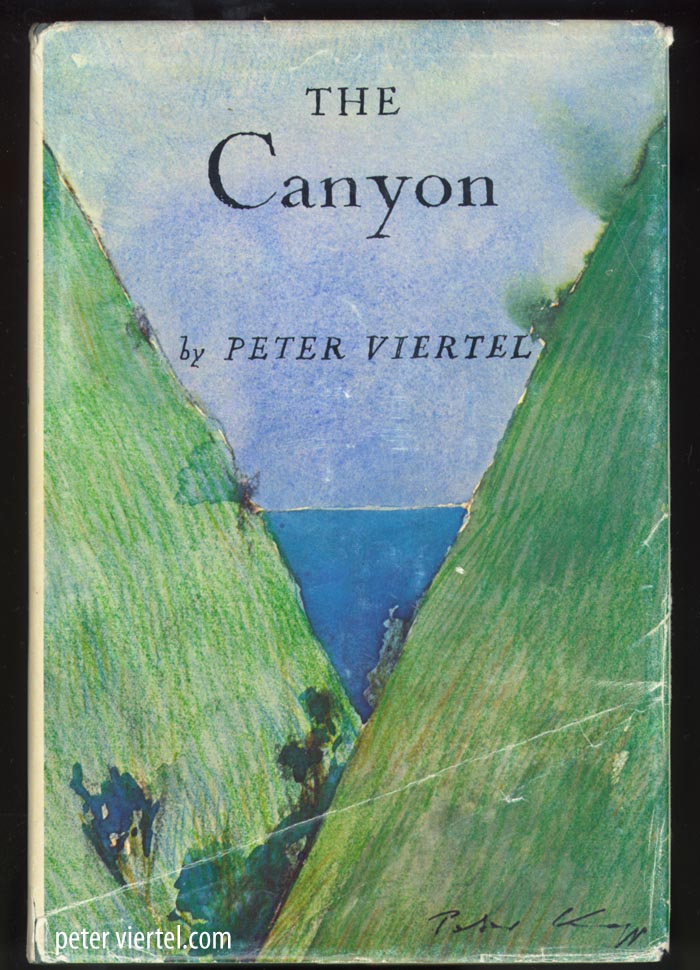 There are two versions of this book known to me: The original 1940 hardback printing, and the late 1970s (?) reprinting in Switzerland by Viertel himself for the benefit of himself and friends. I do not know the copy count on the privately published Viertel volume. (The copy shown above is from the Swiss edition.)
I have received a number of requests from people trying to locate copies of this book. Unfortunately, I do not have extra copies nor do I know a sure place to find any copies. I got my copy using ebay, for which I paid about $40.00 in 1999. I have since heard of used book sellers retailing used copies for as much as $495.00 (of the original 1940 edition).
I have received many emails from people mentioning how fond they are of this volume, particularly among people who have personal experience with the Southern California culture that is the environment of the novel. This is also the book which Ernest Hemingway liked so much.
---
[Dust Jacket flap text]
"This lovely book was written by a boy of eighteen. Although it is about a group of adolescents and especially about one boy hesitating uneasily before facing the trials of manhood, it is written with a grace and sureness of style that would do honor to the most mature of writers.
It is imbued with a wonderful sense of place in this case a canyon on the California coast leading down to the Pacific Ocean. The reader can almost smell the mingled odors of the dry hillsides and the sea, can feel that he has lived in the canyon, is a familiar in the rundown bar at the end of the road, can find his way to the barn where the boys play with a pony and where the hero has his first sexual experience with the sturdy girl who owns the pony. The Mexican squatters who live in shanties up the hill become the reader's intimate friends. He assists at their fiestas, mourns with them when fire and flood, those permanent scourges of the Coast, destroy their poor little village, sympathizes with the hero when his different destiny makes him leave them behind."
To read an excerpt from The Canyon,
[below] a scan of pages 126 - 127.